---
Mount Rainier 1993
---
Warning - Your browser does not support frames. Select from the choices below or scroll down.

[Mount Shasta 1993] [Mount Rainier 1994] [Mount Rainier 1999] [Mount Elbert 2003] [Mount St Helens 2003] [Mount Adams 2003] [Glacier Peak 2003] [Mount Hood 2003] [South Sister 2003] [Mountaineering Home] [Diversions Home] [Home]
I grew up in Colorado where I was exposed to, among other things, mountains. As it turns out, there are quite a few mountains in the Northwest too, some of which are covered in a hard, cold, white substance that is usually to be avoided in the Colorado mountains but which is unavoidable here, namely ice. Here are a few snapshots showing my recent encounters with this mysterious substance.
This photo shows me at Camp Sherman at about 9500 ft. on Mount Ranier.
The next day, I reached the summit to experience this fabulous view.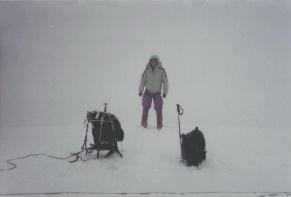 This climb took place in late spring (early June, I think) in 1993 and my partner and guru in the endeavor was Pat Timson.
---
[Mount Shasta 1993]
[Mount Rainier 1994]
[Mount Rainier 1999]
[Mount Elbert 2003]
[Mount St Helens 2003]
[Mount Adams 2003]
[Glacier Peak 2003]
[Mount Hood 2003]
[South Sister 2003]
[Mountaineering Home]
[Diversions Home]
[Home]
This page and all pages and photographs on mark-a-martin.us are
© 1994-2004 Mark A. Martin,
except where indicated. Unauthorized use is prohibited.
Mark A. Martin <mark@mark-a-martin.us>
Last modified: Tue Jul 25 17:16:00 CDT 2000