---
Mount Rainier 1994
---
Warning - Your browser does not support frames.
Select from the choices below or scroll down.

[Mount Rainier 1993] [Mount Shasta 1993] [Mount Rainier 1999] [Mount Elbert 2003] [Mount St Helens 2003] [Mount Adams 2003] [Glacier Peak 2003] [Mount Hood 2003] [South Sister 2003] [Mountaineering Home] [Diversions Home] [Home]
On the second weekend in May 1994, I participated in another attempt to climb Mount Rainier. It was a sunnier day and the party was larger (approx. 6). We spent the night at Camp Muir (near 9000 feet) and made a 2 a.m. assault on the summit. Unfortunately, the wind was so strong by the time we reached 12,500 feet that it was nearly blowing us off our feet and was gouging our faces with very large ice crystals travelling at somewhere around the speed of light.
Me again, this time at Camp Muir.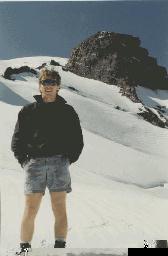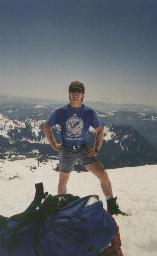 This attempt was rather a pity since it was sunny all day long but the cap cloud that hovered quite a way off of the summit all day showed that we made the right decision. One of the rangers later told us that no one reached the summit that day.
---
[Mount Rainier 1993]
[Mount Shasta 1993]
[Mount Rainier 1999]
[Mount Elbert 2003]
[Mount St Helens 2003]
[Mount Adams 2003]
[Glacier Peak 2003]
[Mount Hood 2003]
[South Sister 2003]
[Mountaineering Home]
[Diversions Home]
[Home]
This page and all pages and photographs on mark-a-martin.us are
© 1994-2004 Mark A. Martin,
except where indicated. Unauthorized use is prohibited.
Mark A. Martin <mark@mark-a-martin.us>
Last modified: Tue Jul 25 17:17:13 CDT 2000