---
Mount Rainier 1999 - Don, Rick, and Mark's Brief Adventure
---
Warning - Your browser does not support frames.
Select from the choices below or scroll down.

[Mount Rainier 1993] [Mount Shasta 1993] [Mount Rainier 1994] [Mount Elbert 2003] [Mount St Helens 2003] [Mount Adams 2003] [Glacier Peak 2003] [Mount Hood 2003] [South Sister 2003] [Mountaineering Home] [Diversions Home] [Home]
These are photos from Don, Rick, and Mark's August 1999 assault on Mt Rainier. More correctly, Mt Rainier assaulted us. We climbed for quite a few hours through the freezing rain, becoming soaked and chilled. We quickly pitched the tent on the Curtis Ridge short of our goal of the Emmons Flats and found that the rain had drenched nearly all of our equipment through our packs. We settled into the tent for a muddy, wet, uncomfortable night.
The weather looked better in the morning but we chose the better part of valor and headed back to civilization. This turned out to be a very wise move since the nicer weather of the morning was merely a ruse. Relatively heavy rain and snow fell throughout the weekend. At least we had fun glissading down the Interglacier on our butts and we probably smelled as bad as we would have had we spent the entire 4 days there that we originally planned.
Clicking on the images will provide access to larger, higher resolution images.
---
A piece of Mt Rainier history that Don spotted while waiting for Mark and Rick at Paradise.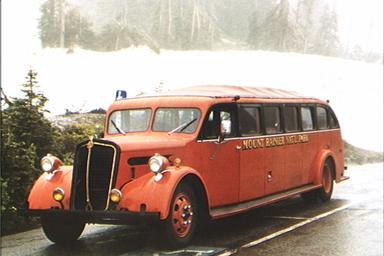 Photo courtesy of Don.
---
Let the assault begin!!! The White River Campground.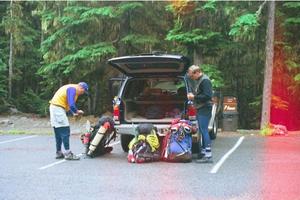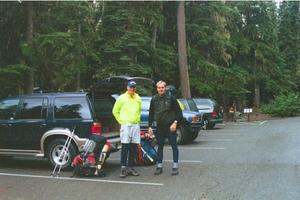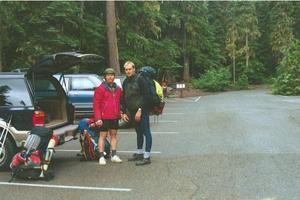 ---
Mark and Rick at Glacier Basin. Photo Courtesy of Don.
---
The base of the Interglacier.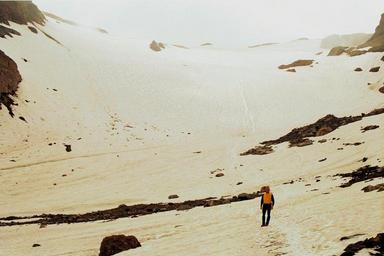 It's further than it looks.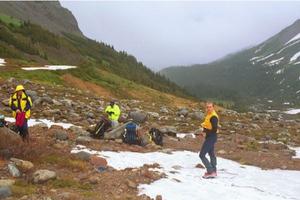 The view in the opposite direction.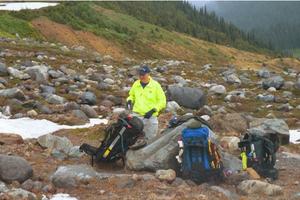 ---
The next morning when the weather was good.
Sunlight or bitter beer face?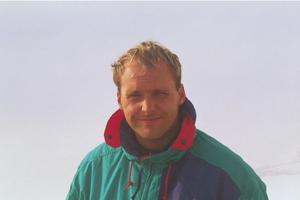 Having a jaunty time near Little Tahoma. Photo courtesy of Don.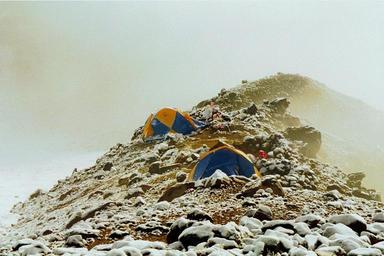 Our neighbors on Curtis Ridge.
Crevasses on the Emmons Glacier.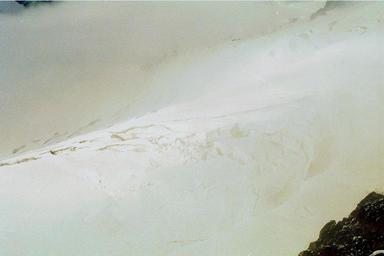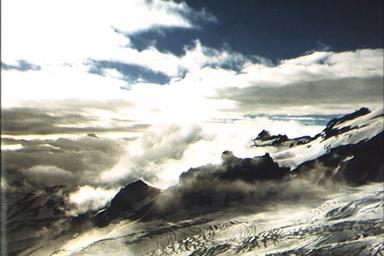 Photo courtesy of Don.
Rick resting and tempting fate. Photo courtesy of Don.
---
[Mount Rainier 1993]
[Mount Shasta 1993]
[Mount Rainier 1994]
[Mount Elbert 2003]
[Mount St Helens 2003]
[Mount Adams 2003]
[Glacier Peak 2003]
[Mount Hood 2003]
[South Sister 2003]
[Mountaineering Home]
[Diversions Home]
[Home]
This page and all pages and photographs on mark-a-martin.us are
© 1994-2004 Mark A. Martin,
except where indicated. Unauthorized use is prohibited.
Mark A. Martin <mark@mark-a-martin.us>
Last modified: Thu Jul 17 16:04:11 PDT 2003