---
Mount Shasta 1993
---
Warning - Your browser does not support frames.
Select from the choices below or scroll down.

[Mount Rainier 1993] [Mount Rainier 1994] [Mount Rainier 1999] [Mount Elbert 2003] [Mount St Helens 2003] [Mount Adams 2003] [Glacier Peak 2003] [Mount Hood 2003] [South Sister 2003] [Mountaineering Home] [Diversions Home] [Home]
Mount Shasta is the second highest Cascade volcano. It stands 14,162 ft (4317 m) tall and is located in northern California, close to the Oregon border. It lies very close to Interstate 5 and dominates the landscape for many miles along the highway.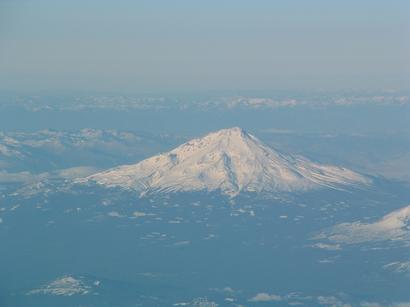 The east side of Mt Shasta from 35,000 feet on November 22, 2003.
Toward the end of the summer of 1993, a friend and I climbed the mountain on a beautiful, cloudless Saturday. We started our climb before dawn. We intended to follow the standard Avalanche Gulch route on the south side. But the ridge leading up to Green Butte just to the east looked more inviting, partly due to the large number of climbers following the more standard approach and partly due to the terrain. My partner and I were inexperienced and we meandered through ice-covered gullies that were probably quite dangerous in retrospect. Our primary virtue was that we always kept the standard route in view. But we were very fortunate not to fall victim to our ignorance.
We reconnected with the standard route just below the Red Banks and then deviated again once we had climbed above them. I recall marveling at the beautiful translucent blue of crevasses, which I didn't recognize, and gawking at enormous cornices overhanging the glaciers on other faces of the mountain.
As I recall, the summit was a relatively sharp nontechnical pinnacle that only held a few climbers. It was cold and windy when we arrived. But we were tired after our long climb and lingered on the summit for quite a while. We had some food and water, chatted with a ranger and some other climbers, posed for pictures, and then headed back down. We held to the standard route on the descent and the only hazard we encountered was some very deep post-holing, which didn't affect our enthusiasm. We returned to our car triumphant and euphoric and luckier than we realized.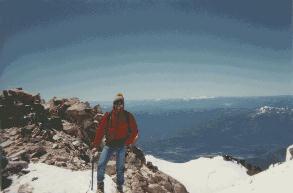 Here I am at the summit.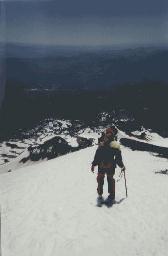 And here is a shot taken behind my partner on the descent.
I apologize for the poor quality of these images. I took these scans when I was also relatively ignorant of scanning technology and image formats.
---
[Mount Rainier 1993]
[Mount Rainier 1994]
[Mount Rainier 1999]
[Mount Elbert 2003]
[Mount St Helens 2003]
[Mount Adams 2003]
[Glacier Peak 2003]
[Mount Hood 2003]
[South Sister 2003]
[Mountaineering Home]
[Diversions Home]
[Home]
This page and all pages and photographs on mark-a-martin.us are
© 1994-2004 Mark A. Martin,
except where indicated. Unauthorized use is prohibited.
Mark A. Martin <mark@mark-a-martin.us>
Last modified: Tue Jan 6 16:09:28 PST 2004