---
Mount St Helens 2003
---
Warning - Your browser does not support frames.
Select from the choices below or scroll down.
[Mount Rainier 1993] [Mount Shasta 1993] [Mount Rainier 1994] [Mount Rainier 1999] [Mount Elbert 2003] [Mount Adams 2003] [Glacier Peak 2003] [Mount Hood 2003] [South Sister 2003] [Mountaineering Home] [Diversions Home] [Home]
After our snowy but successful day-hike to Camp Muir on Mt Rainier on Saturday, May 3 with our friends Pat Leach, Don Summers, Joanne and Ralph Schilling, and über-guide Martin, Pat and Don were kind enough to invite us to join them in climbing Mt St Helens on Saturday, May 17. As you might recall, Mt St Helens is the Cascade volcano that erupted beginning on May 18, 1980 and continued to erupt for months afterwards.
On May 18, 1980, an earthquake of magnitude 5.0 triggered a landslide that sent the entire north side of the mountain down toward Spirit Lake. This released the pressure that had been building in the mountain resulting in an enormous explosion. The explosion sent ash high into the atmosphere and winds carried it thousands of miles. I remember the noticible dusting of ash that we received in Denver at the time. When the eruptions subsided, the mountain had lost over 1300 ft (396 m) in height and had been hollowed-out, leaving not much more than the thin shell consisting of the eastern, western, and southern flanks. The forests and rivers had been destroyed for many miles around, creating a landscape that looks more like the surface of the Moon than the Earth. Prior to the eruptions, Mt St Helens was 9677 ft (2950 m) tall. It is currently 8365 ft (2550 m) high.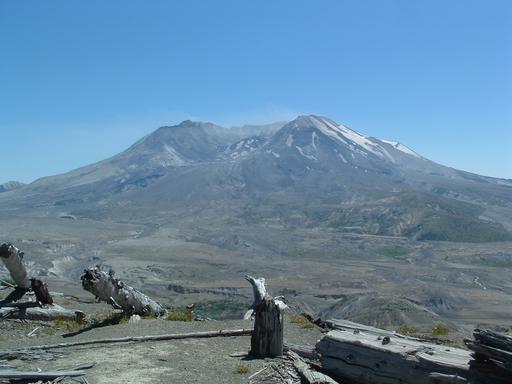 The north side of Mt St Helens today
Before and after pictures and more authoritative information are available from the Mt St Helens National Volcanic Monument web site. I also highly recommend visiting the Johnston Ridge Visitors Center and seeing the presentation there.
To climb the mountain, you need a permit and you have to register. Permits are available and the registry is located at Jack's Restaurant and Store in Cougar, WA. Climbers are only allowed on the route up Monitor Ridge. I will include my understanding of the permit and registration system and a link to the official climbing information at the end of this narrative.
As a completely unbiased observer, I will mention that the food at Jack's is pretty good. We've eaten there on each of our climbs and enjoyed it thoroughly. We've also enjoyed chatting with the people who work there, who are by and large friendly and fun to talk to.
Our group, which consisted of Don, Pat, Dawn, me, and Ralph, met at Jack's on Friday afternoon to buy permits. It was still early in the season. So the weather was questionable and there weren't enough people vying for permits to require a lottery. We purchased our permits, registered, and reconvened in our fabulous accomodations at the Lone Fir Resort.
The Lone Fir has very large, affordable, multiple-bedroom suites with kitchens and multiple bathrooms. The accomodations are enormous but spare and look like they haven't changed since the 1950's or 60's. There is also a very long and bizarre list of rules for guests that has been an endless source of amusement. But I don't want to put the Lone Fir down. It's a good place for staging a climbing trip and we have had a lot of fun during our stays there. Also, the people who work there have been very friendly and have very generously allowed us to leave extra cars in the parking lot during our climbs.
We began climbing the next morning around 9 a.m. It was intermittantly snowing at the trailhead. The weather alternated between snow and clearing with strong winds throughout our climb. We reached approximately 7600 ft (2316 m) before near white-out conditions and someone's lack of crampon-compatible boots forced us to turn around. Our defeat was disappointing. But it's important to be willing to turn around in bad conditions and try again another day.
The trail up the mountain passes through woods for the first couple of miles and then heads up Monitor Ridge. It isn't quite as steep in the woods as it is on the ridge. The climb is fairly steady once you reach the ridge and is usually easier on snow, if it's firm, than it is on the volcanic ash of the ridge. It is also very nice to have snow to glissade down on the descent. The snow melts over the summer and the climb is reportedly much less pleasant once the snow is gone.
Large wooden poles mark the route and we relied heavily on them for route-finding in the blowing snow. Pat planted wands every 200 ft to help us find our way down. And Ralph experimented with his secret new GPS receiver. We had been caught in a white-out a couple of weeks earlier on Mt Rainier and were determined to do what we could to insure the safety of our descent.
After our failed first attempt, Dawn and I were happy to discover that we didn't have to wait long before we got another chance. Pat generously organized another trip for Saturday, June 7. This time, our team consisted of Pat, Don, Dawn, me, and the enthusiastic Roger Howarth. Don, Dawn, Roger, and I met at Jack's on Friday afternoon to get permits and register. The weather was beautiful and the competition for permits was fierce. We were fortunate and the necessary 2 of us were drawn in the lottery. We then headed to the Lone Fir, where Pat met us later, for dinner and pre-climb preparation.
When we began our climb in the morning, it was sunny but hazy and the mountain was obscured from view. It was still somewhat cool but there was little wind. The snow that had covered the trail in the woods had mostly melted and we noticed that the route was slightly different than before. When we reached the ridge, we found almost perfect snow conditions. The snow was firm enough to hold your weight but soft enough for kicking steps. Our ascent was like climbing a very long fight of stairs. It remained sunny and calm throughout our climb and the haze progressively evaporated during the day, making the views more and more spectacular as the day went on.
The summit was very pleasant. It was sunny, warm, and calm and we had incredible views. We also encountered a ranger who we had met the night before at Jack's. We had fun talking with her and she was kind enough to take our group picture.
The glissade down was fun, fun, fun. There was enough snow so that we were able to glissade almost all of the way down to the woods. If you climb early enough in the year when there is still significant snow, don't forget to bring snow pants or something else to slide on. You won't regret it.
Once we reached the trailhead, we recruited another climber to take one last group shot. Then we piled into our cars and headed off to Jack's for a victory dinner. We smiled as we waded through the crowd waiting for the permit lottery at Jack's. We knew what was waiting for them on the mountain and it reminded us of the journey that led us to such an incredible day.
Only a couple of pictures taken at the Lone Fir are from our first, unsuccessful trip. The remainder are from our second, successful trip. Conditions were bad enough to keep me from taking pictures during our first climb.
---
Here is my understanding of the restrictions and requirements for climbing the mountain. Climbers are only allowed on the route up Monitor Ridge. Between April 1 and October 31, only 100 climbers are allowed above 4800 ft (1463 m) each day. Rangers pass through frequently checking permits. Permits must be purchased at Jack's Restaurant and Store in Cougar, WA. 60 of the available permits may be reserved ahead of time. The application form for reservations is available on the Internet. It must be mailed in after February 1. The remaining permits are distributed via lottery at Jack's at 6 p.m. on the night prior to the day that the permits are valid. Each person drawn in the lottery may purchase up to 4 permits. It is a very good idea to get to Jack's and submit your name for the lottery early, especially during peak times such as Friday and Saturday nights. Permits are $15 per person during this time.
Between November 1 and March 31, permits are free and available 24 hours a day outside of Jack's Restaurant. There is no restriction on the number of climbers per day during this time.
All climbers must also register at the climbers registry located on the outside of Jack's. The Mt St Helens National Volcanic Monument Climbing Page has all of the official details. The rules could change without my knowledge. Or I could neglect to update this page. So I strongly recommend checking the official climbing page before heading out to climb.
---
Our Introduction to the Lone Fir
Pat and Dawn, caught in the kitchen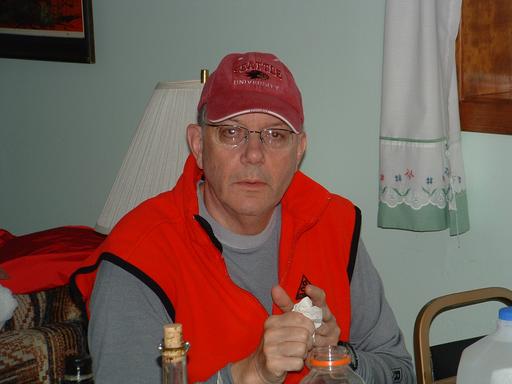 Don's got his game-face on.
A Second Wild Friday Night at the Lone Fir
Don want cookie, ummm!
Roger impresses with his juggling act.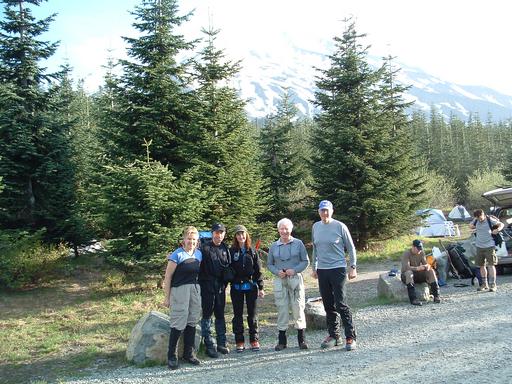 Ready to go at 7 a.m. with the mountain in haze
Left to right: Pat, me, Dawn, Roger, Don
Above tree-line and onto the obviously volcanic ridge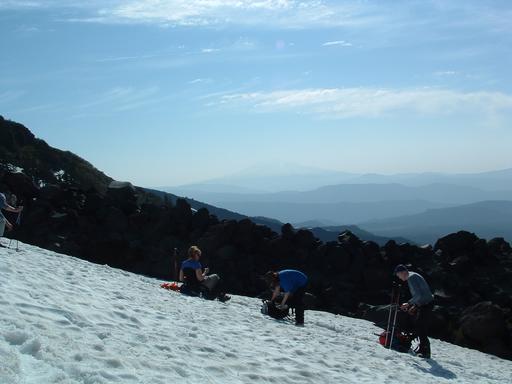 A break with a mist-shrouded Mt Adams in view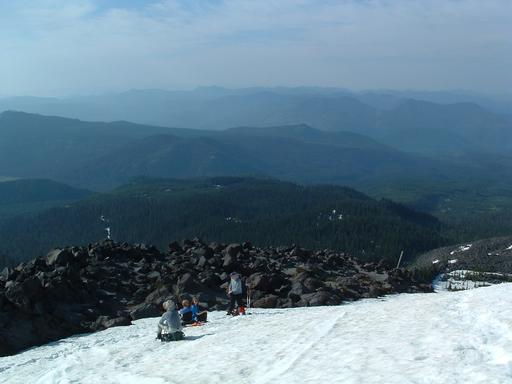 The forested ridges behind us
The snowy route along Monitor Ridge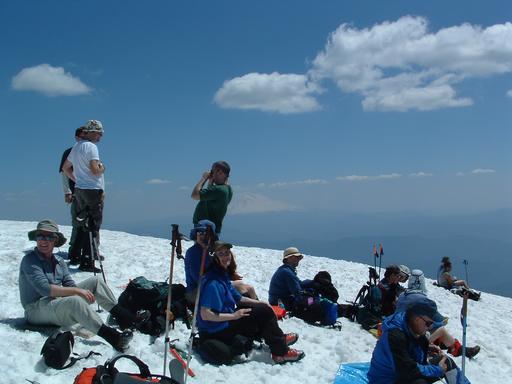 Tanning on the summit with Mt Adams nearby
Panorama of the crater -- Click on the image for full-sized view.
Mt Adams
Spirit Lake with Mt Rainier in the distance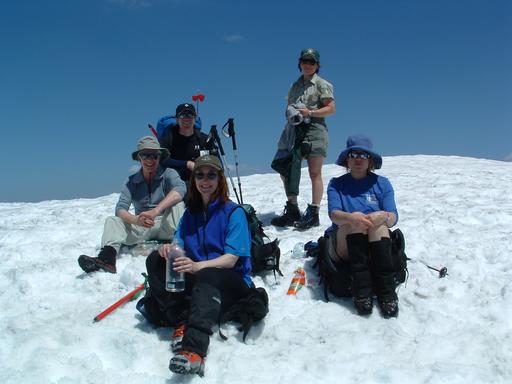 The ranger riding herd over a motley group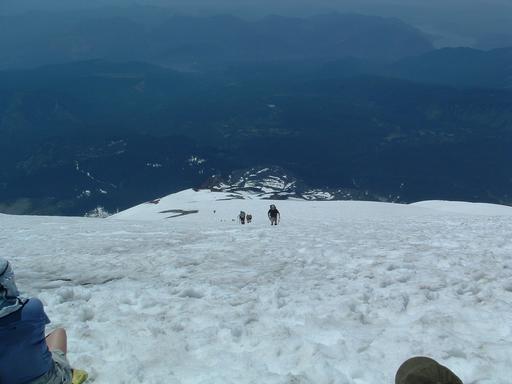 Looking back down the route from the top
Mt Adams is for lovers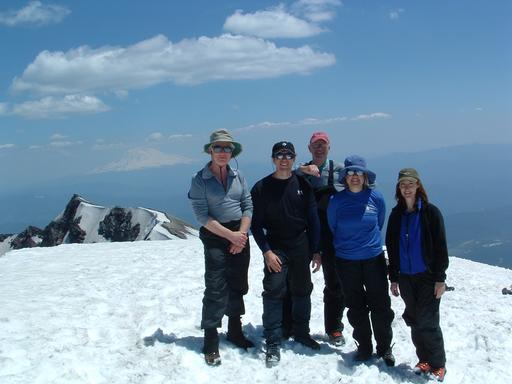 We claim this summit in the name of France!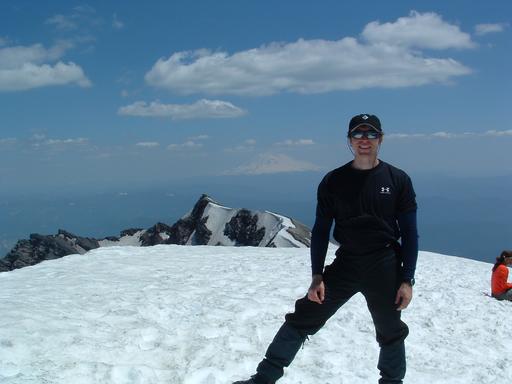 Hey, Baby! Summit often?
In your dreams!
A pause in the glissading, i.e. sliding down the mountain on our butts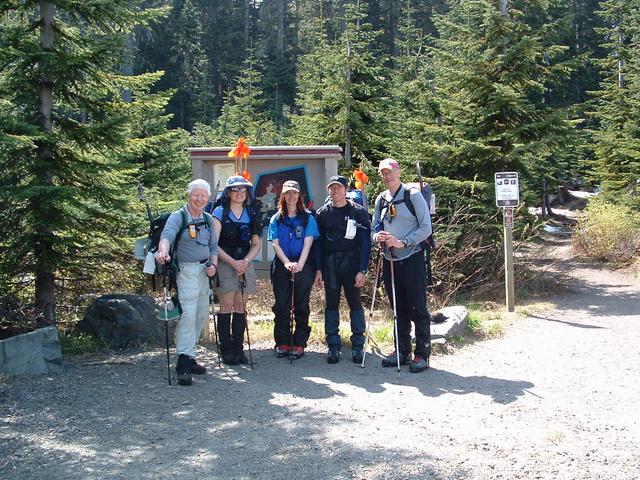 The victory outweighs the fatigue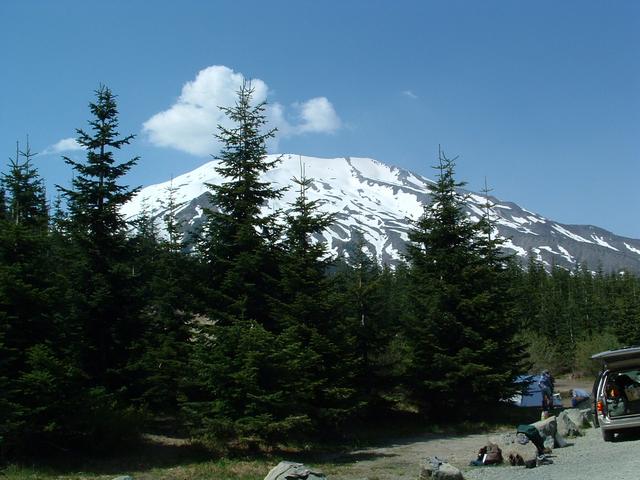 Our prize after the morning haze dissipated
---
[Mount Rainier 1993] [Mount Shasta 1993] [Mount Rainier 1994] [Mount Rainier 1999] [Mount Elbert 2003] [Mount Adams 2003] [Glacier Peak 2003] [Mount Hood 2003] [South Sister 2003] [Mountaineering Home] [Diversions Home] [Home]
This page and all pages and photographs on mark-a-martin.us are
© 1994-2003 Mark A. Martin,
except where indicated. Unauthorized use is prohibited.
Mark A. Martin <mark@mark-a-martin.us>
Last modified: Thu Nov 20 07:12:55 PST 2003