---
Mount Elbert 2003
---
Warning - Your browser does not support frames.
Select from the choices below or scroll down.
[Mount Rainier 1993] [Mount Shasta 1993] [Mount Rainier 1994] [Mount Rainier 1999] [Mount St Helens 2003] [Mount Adams 2003] [Glacier Peak 2003] [Mount Hood 2003] [South Sister 2003] [Mountaineering Home] [Diversions Home] [Home]
I spent the last half week of May and the first half week of June in Denver attending the wedding of my friends Mike and Carmen. At that point, I had already made a day-hike up to Camp Muir on Mt Rainier, had attempted to climb Mt St Helens, and was scheduled to make a second attempt to climb Mt St Helens a few days after returning from my trip. The mountaineering bug was starting to bite hard. So I thought, if I was going to be in Denver, I might as well take the opportunity to climb a mountain. And, if I was going to climb a mountain, why not climb the highest one there? So I decided to climb Mt Elbert, which is the highest peak in Colorado at 14,433 ft (4399 m) and the 2nd highest peak in the contiguous 48 states after Mt Whitney (14,495 ft or 4418 m) in California.
This wasn't quite as impulsive as it might seem. I grew up in Denver and had climbed the neighboring Mt Massive, which is the 2nd highest peak in the state, when I was in high school. So I was generally familiar with the terrain. Also, most of the high mountains in Colorado are easily accessible and are better characterized as hikes rather than climbs. I consulted my trusty guide book before leaving Portland and packed all of the appropriate equipment. I also stopped at the flagship REI store in Denver to pick up a map and a few additional pieces of equipment before heading out to climb. I invited friends to join me but found no takers. But my friends agreed to call the authorities if they didn't hear from me within a reasonable period of time.
One of my primary goals at the beginning of the climbing season was to gain an understanding of altitude-related illnesses and ways to prevent them. I had struggled with various altitude-related symptoms in the past and was strongly motivated to learn how to avoid them. For this purpose, I read the excellent text Going Higher: Oxygen, Man, and Mountains, 4th Ed., Charles Houston, M.D., The Mountaineers, 1998. So I knew beforehand that I was likely to experience problems since I was not stopping to acclimate at 8000 ft (about 2400 m) and progressing 2000 ft (about 610 m) per day thereafter. But I scheduled my climb for the last possible day of my trip and hoped that almost a week at 5280 ft would provide some acclimation.
Early in the morning on Tuesday, June 3, 2003 I set out for my climb. Mt Elbert is located near the town of Leadville. The fastest route to the mountain from Denver is to take I-70 west to Copper Mountain, Highway 91 south to Leadville, and then Highway 24 south to Highway 300. A good guide book will get you the rest of the way there. The paved sections of the trip will probably take about 3 hours. However, I will also note that the dirt road from Highway 300 to the trailhead is extremely rough and it took me about an hour to cover the last 10 miles to the trailhead. Rather than taking the fastest route, I took Highway 285 south and then Highway 24 north through Buena Vista to avoid a gigantic sink hole that coincidentally happened to be blocking I-70 at the time. This route took much longer. After my climb, I discovered that the sink hole was west of Highway 91 and took the quicker way back to Denver.
By the time I reached the trailhead at around 10,000 ft (3048 m), I already felt lightheaded. But I downed a couple of ibuprofen and started my ascent. It was an incredibly gorgeous day. I had been admiring the scenery during the drive and being out in the middle of it was even better. It was sunny and warm throughout the tree-covered lower half of the climb. The trail was dry except for occasional patches of snow in the trees. Above treeline, which was around 12,000 ft (3658 m), the sun was unable to overcome the cool wind. The trail continued along the ridge line through dry scree with large snow fields running along either side. It was quite cold on the fairly broad summit, which held a large patch of snow.
I took the shortest route up the mountain listed in my guide book, which starts at Halfmoon Creek. This route has 4 false summits, which can be discouraging. I began to struggle against the altitude near treeline and the last couple thousand feet were very challenging.
As you can see below, the view from the summit was spectacular. Unfortunately, I wasn't able to stay on the summit for very long. It was colder than I was prepared for and I could tell that I was going to pay for my anoxia with a very painful headache. I met another climber, who was visiting from Missouri, on the ascent at around 13,000 ft (3962 m) and he and I made the remainder of the climb together. After 15 or 20 minutes on the summit, we decided that it was time to go and made a hasty retreat down the mountain.
By the time I reached the car, I had the beginnings of a good migraine, complete with visual impairment. I knew that the only cure was to get to lower altitude as quickly as possible. So I drove back to Denver as fast as I could and went right to bed once I arrived. The scenery on the way back was as spectacular as it had been all day. I was disappointed that I couldn't enjoy it more due to the pounding in my head. But I was very happy that I had made my ascent and grateful for the incredible day in the mountains.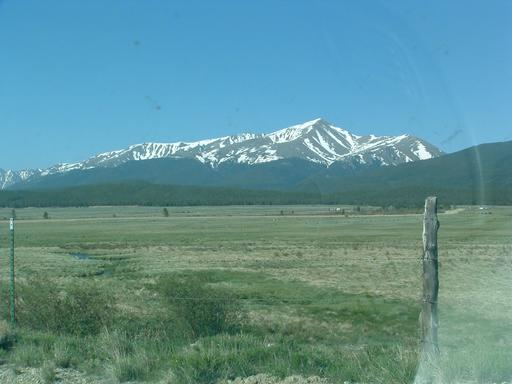 My destination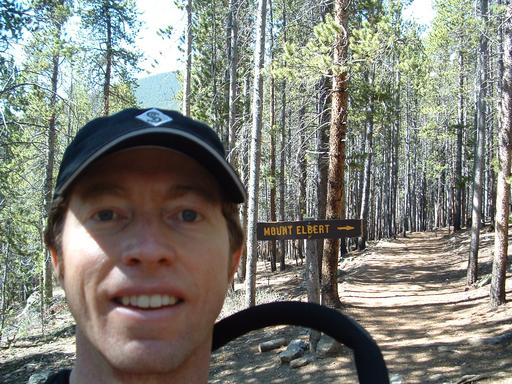 I seem to be on the right track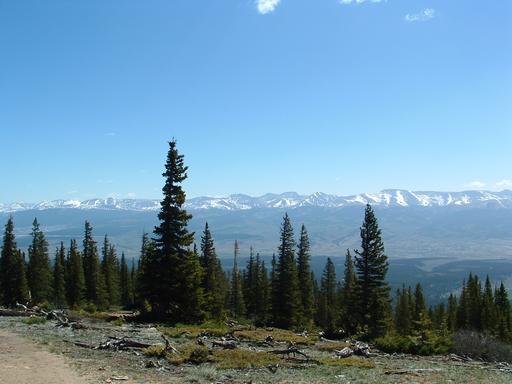 Just above tree line at about 12,000 ft
The **first** false summit
The view from the top of the highest peak in CO

360° Panorama of the View from the Top of Mt Elbert -- Click on Image for Full-Sized Panorama (Warning: approx. 1 MB)
---
[Mount Rainier 1993] [Mount Shasta 1993] [Mount Rainier 1994] [Mount Rainier 1999] [Mount St Helens 2003] [Mount Adams 2003] [Glacier Peak 2003] [Mount Hood 2003] [South Sister 2003] [Mountaineering Home] [Diversions Home] [Home]
This page and all pages and photographs on mark-a-martin.us are
© 1994-2003 Mark A. Martin,
except where indicated. Unauthorized use is prohibited.
Mark A. Martin <mark@mark-a-martin.us>
Last modified: Thu Nov 20 07:12:55 PST 2003